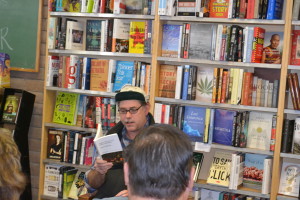 Central Image in Narrative: The Picture Tells the Story (multi-genre)
Vision is a powerful instrument in life and literature. When we read stories, we rely on the author's words to evoke a place where sounds are heard, flavors tasted, scents smelled, and textures felt, but above all we trust the language to appeal to our sense of sight. Indeed, if it doesn't, we may well set the narrative aside. In this workshop, which will be both generative and constructive, images will inspire the stories we write and lend coherence, cohesion, and meaning to them. Throughout this workshop we will approach storytelling as a discipline that makes use of narrative strategies as well as strategies of lyricism, painting, drawing, and photography, art forms that cannot render causality except by implication and impart their meanings through exploration of stasis and techniques of compression. In short, we'll treat images as structural attributes of stories, whether rendered in prose or poetry.
Students may expect one writing prompt per week and the opportunity to have their own original fiction, creative nonfiction, and narrative poetry discussed in a safe environment in which all members of the workshop agree on the value of helping stories find their larger audiences.
Link to Instructor Letter.
Daniel Mueller is the author of two collections of short stories, How Animals Mate (Overlook Press 1999), which won the Sewanee Fiction Prize, and Nights I Dreamed of Hubert Humphrey (Outpost 19 Books 2013). His work has appeared in numerous magazines and journals, including The Writing Disorder, The Iowa Review, The Missouri Review, Story Quarterly, The Cincinnati Review, Gargoyle, Prairie Schooner, CutBank, Joyland, Surreal South, Another Chicago Magazine, The Mississippi Review, Story, The Crescent Review, and Playboy. New work appears or is forthcoming in The Iowa Review, Chicago Quarterly Review, and Gargoyle. He is the recipient of fellowships from the National Endowment for the Arts, Massachusetts Cultural Council, Santa Fe Writers' Project, Fine Arts Work Center in Provincetown, Henfield Foundation, University of Virginia, and Iowa Writers' Workshop. He serves as a Professor of English at University of New Mexico and a member of the creative writing faculty of the Low-Residency MFA Program at Queens University of Charlotte.
Register here: http://ce.unm.edu/professional/business/rananim.php