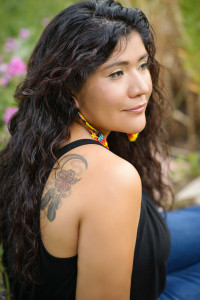 Poetry: Writing the Rupture

Each of us has a voice that is powerful, a voice that is meant to share the stories we hold inside of us. Where do stories take root? When and where does the occasion of poetry take place? How does poetry plant itself early on in our artistic beginnings? During this eight-week workshop we will focus on and discuss poetry that investigates the human experience. We will learn more about that ways in which poetry can serve as seeds to create the food that nurtures and heals the flooding of our internal heartscapes. We'll use poetry to explore how the art of remembering can allow us to re-member – and put ourselves back together after rupture. This course is meant for writers at all levels and is primarily designed for beginning and intermediate poets who wish to expand their knowledge of craft and poetic forms. This will be a generative poetry course with prompts designed to help you create new poems while learning about yourself.
Link to Instructor Letter.
Tanaya Winder is a poet, writer, and educator, raised on the Southern Ute reservation in Ignacio, CO. An enrolled member of the Duckwater Shoshone Tribe, her background includes Southern Ute, Pyramid Lake Paiute, Navajo, and Black heritages. Tanaya writes and teaches about different expressions of love (self love, intimate love, social love, community love, and universal love). A winner of the 2010 A Room Of Her Own Foundation's Orlando prize in poetry, her work has appeared or is forthcoming in Cutthroat magazine, Superstition Review, Drunkenboat and Kweli among others. Her poems from her manuscript "Love in a Time of Blood Quantum" were produced and performed by the Poetic Theater Productions Presents Company in NYC. Her debut poetry collection Words Like Love was published in 2015 by West End Press. Tanaya has taught writing courses at Stanford University, UC-Boulder, and the University of New Mexico. She has a BA in English from Stanford University and a MFA in creative writing from UNM. She is a co-founder of As/Us: A Space for Women of the World. She guest lectures and teaches creative writing workshops at high schools and universities internationally.
Register here: http://ce.unm.edu/professional/business/rananim.php