Feroza Jussawalla from the 2017 International D.H. Lawrence Conference in London
July 26, 2017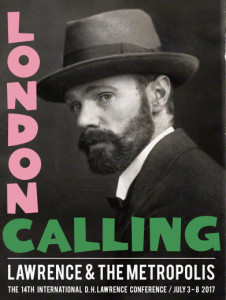 The International D.H. Lawrence conferences are always a time of fellowship and good meetings with colleagues from around the world who are trying to keep the legacy of Lawrence alive. I have been privileged to be part of these conferences since 2011, when I attended the one in  Sidney, Australia, thanks to the mentorship of Nancy Paxton. This year was no different, though the London conference was much smaller than the one in Italy, 2014, mostly due to political events that engendered a fear of travelling to London. About eighty people were in attendance.
Thanks to the generosity, graciousness and acceptance of the beautiful and talented Catherine Brown, New Mexico was well represented. A recent graduate, Bradley Tepper, myself, my colleague Julie Anne Newmark, and Emeritus Professor Hugh Witemeyer, attended, most of us at our own cost, because we wanted to be there among the colleagueship of fellow Lawrentians.
The 14th International D.H. Lawrence Conference, London Calling: Lawrence and the Metropolis was held at the beautiful Georgian building of the New College of the Humanities, 19 Bedford Square, where in some senses it can be said Lawrence started his career Almost across the square was the home of Lady Ottoline Morrell, that Catherine Brown led her group to see. The College were most gracious hosts in their bright and airy building. Two sets of walking tours went off from that central point. Bradley and his most gracious wife Jan Gilman Tepper, followed John Worthen, and I went off with Catherine. Major speakers included the usual respected Lawrence scholars, Judith Ruderman, Joyce Wexler, David Game, who did touch on postcolonial aspects of Lawrence in New Mexico, and Andrew Harrison, whose new Blackwell Critical Biography, The Life of D.H. Lawrence is making a splash. Also of great note was the large volume of critical essays from the Gargnano conference, so expertly edited and organized by Simonetta de Filipis, D.H.Lawrence, New Critical Perspectives and Cultural Translations(Cambridge Scholars, August, 2016). The talks were accompanied by wonderful evenings of music, both at the banquet and at St. George's Church, where Bethan Jones and family performed along with Holly Laird reading Lawrence's poetry. But the real highlights were the many tours around the environs that were so expertly organized. In any study of Lawrence it is important to know his physical contexts. The beautiful Cornwall countryside, experienced during, the International conference at St. Ives, also expertly and warmly organized by the welcoming Jane Costin and Sue Reid, underscored this for me.
And though Cornwall turned hostile to Lawrence, New Mexico gave him a place to call home. And so we invite you to the 15th International D.H. Lawrence Conference, to be organized by the  D.H. Lawrence Ranch Initiatives in Santa Fe in 2020, where we hope to include a large number of scholars with varying and differing perspectives, to enlarge and enliven the scope of Lawrence studies, along with perhaps creative writers interested in learning about how to write "a sense of place."