Terry Michels - How the Love of Literature Led Me to Lawrence
October 19, 2017 - Terry Michels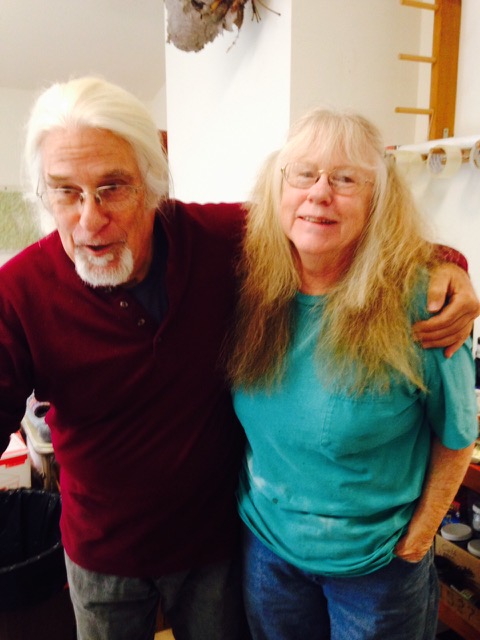 Terry and Merry Michels
When I was eight years old, my father having just returned from five years at war, purchased the complete Gadshill Edition of Charles Dickens, and I read one volume after another. Then I moved on to Steinbeck, Camus, Ionesco, and Hemingway. Dad got nervous; he told me that all this literature would interfere with my medical studies. In our family you were allowed to grow up to be any kind of a vascular surgeon you wanted to be.
At the University of California, while swallowing chemistry and physiology classes, I managed to study Greek plays, Plato, Socrates, and attended lectures concerning "the historical truth of the Iliad and Odyssey." Soon, medical school in Wisconsin demanded all my concentration, but I did enroll for one semester's review of Joyce's "Ulysses." As a senior I spent 3 months in Paris at the American Hospital and attended every play I could from "the theater of the absurd."
While practicing surgery in Oakland, I audited classes in Berkeley, and in order to take a review of Melville's books I was told to enroll in the Masters Program. My interest in Fassbinder turned my attention towards film, and for two years I was a teaching assistant in the film division of the English department. The owner of a book store nearby to where I lived turned me on to Nabokov, and I read all his work and everything about the man I could find following which I dove into the world of Russian writers. Although I had't read all the required works for a course at Cal entitled "Shakespeare and Freud," I talked the professor into letting me enroll. During the second semester I wrote a fifty page paper psychoanalyzing Hamlet at the bottom of which she wrote, "Nice work, Terry, but keep your day job!" She told me soon after that "Shakespeare is enough for me, but not for you, Terry."
When I moved to the country, while I did general practice, I began to write novels. (You can see them at lulu.com ) My library grew by the day as I studied Ibsen, O'Neill, Faulkner, and a host of others. Then I happened upon D.H. Lawrence and spent many happy years reading his novels, poems, and essays as well as following the threads leading around his friends and peers and revealing the short, never stable life of the writer. I read many books of criticism, others labeled as biographies, and discovered there were societies devoted to his importance. I was impressed with Lawrence's understanding of human relationships and his realistic portraits of those who put personal gain and pride ahead of all other concerns. His honesty inspired me. Lawrence had the great ability to change his mind. He switched friends, moved continuously, and rewrote his books when he altered his opinions. To emulate this ability, I took my first novel "Riverton Diary" and rewrote and illustrated it as a new book called "Riverton Log." Meanwhile, I began to attend the DHL Society meetings and joined the MLA.
In 2012 I read a paper at the Seattle MLA conference concerning obscenity in Lawrence's work. The study also examined the writing of the American author Philip Roth. You might say that I was moving on. Nowadays I am studying transcendentalism in American literary works, reading Margaret Fuller, Nathaniel Hawthorne, and James Lowell. My wife and I have moved to a small apartment in Portland, Oregon, and we have donated our Lawrence collection to the DHL Ranch Initiatives and the University of New Mexico. Already, our new library here in the Northwest is growing.

Terry A Michels, M.D.